I have been swooning over peacock mirrors ever since I laid eyes on them - I don't remember exactly when. These mirrors were first discovered in Indian Palaces, known as "the bird with a hundred eyes" because of the resemblance to peacock tails. Studded with row after row of many dazzling small mirrors, they are still desired by many designers. These mirrors add magical sparkle and texture to a wall providing eclectic feel and character to any decor. The ones with carved wood are pricey for sure. Lately I have been seeing some online stores selling replicas made from resin and wood mix for an affordable price. I finally got my hands on one of these beauties at Pier1. They had an online only sale with store pick up option, very convenient. I actually called the store nearby and asked them if I could purchase it there for the online sale price and they made it available for me right away.
Loving the combination of my new mirror with this patternful vignette.
The tiny mirrors flirting with the light give an extra ambience in the night.
Peacock mirrors definitely add pizzazz to any style and room. Here are some homes with inspiring styles on Pinterest;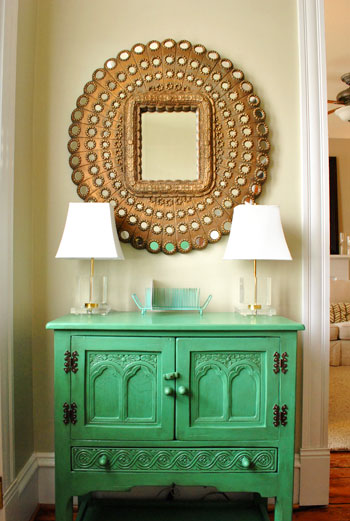 via
pinterest
Found on
younghouselove
. What a lovely entry vignette! This mirror is from Pier1.
via
Pinterest
Found on
apartmenttheraphy
. Beautiful ranch style home in CA with vibrant color palette eclectic entryway with the most beautiful peacock mirror.
via Pinterest
Found on
c-home
. Stunning mirror from Singh Imports dazzles the entryway in this beautiful neural palette home.
via
Pinterest
Found on
erinmartindesign
. Stunning over-sized mirror makes a focal point in this gorgeous bedroom. Loving the hanging Moroccan lantern.
via
Pinterest
Found on
wisteria
. Antiqued silver peacock mirror in the living room. So loving the silver.
via
Pinterest
Found on
jillsorensen
. How about on your home office wall?
via
Pinterest
Found on
fourwallsandaroof
. Photo from Wisteria, loving the size and horizontal display in this lovely dining room. Styled by Paige Morse.
via Pinterest
Found on
southernliving
. The mirror and the chairs give a global eclectic touch to this charming living room.
via Pinterest
Found on
nerochronicles
. I just love this white space with global accents. Stunning lanterns, over-sized suzani pouf, Moroccan pillow and Indian peacock mirror.
via
Pinterest
Found on
daydreamsonvinyl
. Of course my all time favorite Maryam Montague's stunning home with Indian peacock mirror completes the room.
Some of the sources selling peacock mirrors;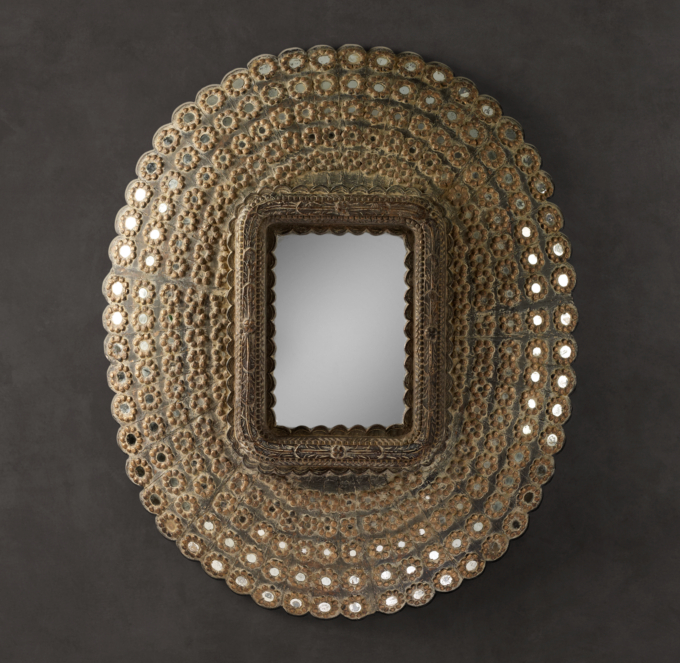 via
restorationhardware
Restoration Hardware wood carved frame. Price $895 - $1145.
via
wisteria
Antiqued silver peacock mirror from Wisteria. Price 1,999.00. Handmade nickel silver mirror.
via
1stdibs
19th century Anglo-Indian large scale gilt wood carved mirror by Mosaik. Could be hang both ways. Price $3,500
via
dotandbo
Dot&Bo. Bubble Ripples Wall mirror. MDF, glass, polyurethane. Price Sale $689.99
via
Pier1
Pier1 Golden Medallions Mirror. Resin, engineered wood, paint. Price Sale $99.98.
What do you think about peacock mirrors, which finish and shape would you prefer and where would you use them?
Happy weekend!xx