Coveting articulated workshop lamps lately. They look so sculptural and fun. I actually am not crazy about industrial style but these lamps seem to work with any decor. With a little bargaining I found this Ajusco work lamp from ebay. It is an early 30's American heavy duty work bench lamp, nicely restored by
dorsetfinds
. I just need to decide whether I should hang it on the wall or keep it on my home office table. If I decide to use it on the table I have to find a base for it because these are originally work bench task lamps and were attached to tables with nails and screws. Since I don't want to ruin my antique reclaimed barn wood table (it has enough wear). Right now it is secured to the table with a good old clamp which is growing on me lately:)
Love almost black dark green patina and the texture...
I am now coveting floor lamps similar to this. My biggest crush is French Jielde lamps. They are made in France in 1950's by Jean-Louis Domecq. He was tired of lacking practical lamps in his workshop and decides to design a lamp that woks under heavy duty conditions. The genius part of the design of these indestructible work lamps is the twisting and turning joints that do not effect the wiring inside when they move. They are just an art piece to look at, the more zigzags the better:) Recently there are some reproductions made in the US but they don't talk to me as much as the original ones.
I found this desk lamp at HomeGoods a couple of weeks ago. Great price, love the look but still did not speak to me, so I returned it.
There are a few on ebay from France selling for US buyers but you have to be ready to pay quite a lot plus shipping if you go with an original.
Here are some reproductions from the US that are more affordable;
via
pbteen
Pottery Barn Teen has Jielde reproduction lamps that are quite faithful to the originals. They have cute colors and are affordable too.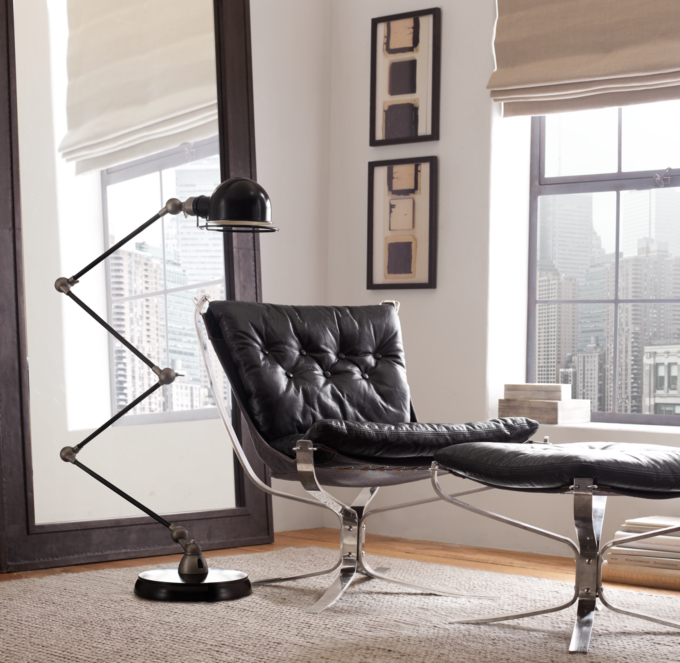 via
restorationhardware
I found Atelier Scissor task lamps at Restoration Hardware, inspired by pharmacy lamps from the early 1900's. They look very close to Jielde lamps and are on sale now.
Love some of the inspirational pictures with Jielde floor lamps from my Pinterest;
via
greigedesignblog
via
enmiespaciovital
via
yvonnekone
via
iainclaridge
via
homebylinn
via
cococozy
Don't you love the sculptural look of the lamp in this gorgeous neutral palette entry.
Have a great weekend!xx