I have been seeing traditional Indian chakkis used as an ottoman, a stool with cushions or used as a table in designer homes lately. They look amazing in any space.
via
vagabondtravels
Chakkis originally are Indian mills used to grind wheat and other grains. They are beautifully carved round shaped wood with low legs holding a stone mill.
Nowadays they are also used as ottomans, stools or tables in home decor.
via
horchow
Stunning chakki table from
Horchow
.
via
worldcraftindustries
Chakki base.
via
worldcraftindustries
via
worldcraftindustries
via
hawaiihomeandremodeling
Upholstered cushions on chakkis.
I just love their roughness, the rich color and the texture of the wood. Loving it with or without cushions.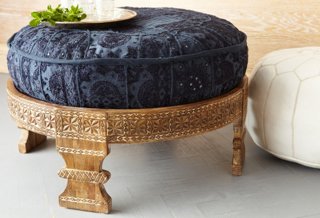 via
onekingslane
One Kings Lane
chakki.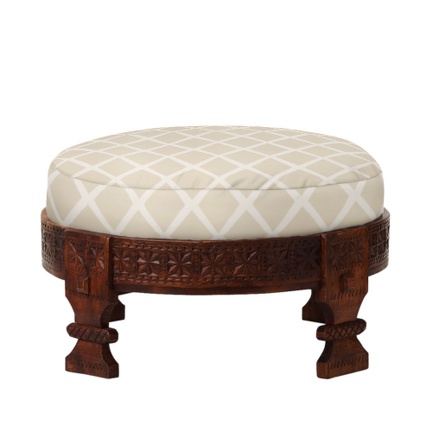 via
serenaandlily
Dark walnut chakki.
via
serenaandlily
via
aestheticoiseau
If you are looking for a newly made white chakkis, Serena and Lily are selling these gorgeous ones.
via
thestylecure
via
beyondmarrakech
Okay, this is one of my favorite chakki pictures from
Beyond Marrakech
. Stunning Indian and Moroccan eclectic mix.
via
housebeautiful
Amazing Moroccan tile fireplace. Chakki stool from
Serena & Lily
.
via
housebeautiful
This poolhouse with French doors that open onto the pool area. Chakki ottomans by Serena & Lily.
via
queenslandhomes
The home of renowned Australian artist Ken Johnson has a chakki used as a table. Sigh, I can stay here forever...
Another great use of chakkis as tables. Love this serene airy space.
Love everything in this room.
via
prettysedaynacar
The room color and the ottoman's fabric choices are not my favorites but, this space gives me a smile for sure. Love the rich dark wood of chakki.
via
apartmenttherapy
Evan and Greg' s cool downtown LA loft living room area with adorable chakki stool.
via
labottegadiamrita
Amazing chakki tables display favorite books.
Perfect touch of greys, whites, neutrals.
via
pinsforyourhome
Want this.
Blogger Maryam Montague's home in Morocco. Gorgeous beni ourain carpet anchors chakki table and handira cushion seating area. So many wonderful things. Don't you want to sit and relax?
via
marcelleguilbeau
In an eclectic living room.
In the conservatory... My dream space...
via
india-inspirit
How about outdoor chakkis? I adore this place.
via
tara-design
Cute chakki dog bed with sari cushion. I would love to have one for my dog.
What do you think about chakkis? How would you use it?
UPDATE - Yay, I finally found my chakki! Check my post
here
.