I have been obsessing over Moroccan poufs lately. They seem to go with most every style. Poufs are versatile; Great for small spaces, they don't clutter the room. Easy to move around. Great for sitting on, propping up your feet, using as a table, or just as eye candy.
Over the weekend I came across these gorgeous leather poufs at Home Goods. I want one...
Home Goods poufs taken by Instagram.
I used to have this Turkish pouf. :(
Here are some poufs that I like;
via
maisonboheme
Poufs are great for small spaces...
via
apartmenttherapy
via
likemesome
Adorable tufted pouf.
I like the idea of a big round tray on a pouf to make a table.
via
thatbohemiangirl
Cute bohemian room with poufs.
I like this intricately decorated pouf.
Casually decorated room with white poufs.
I love how metallic poufs add more drama to these rooms. They look like jewelry.
via
hausofhinton
via
beyondmarrakech1
via
frommoontomoon
LOVE these silver poufs and Moroccan handira wedding blankets...
via
inspirationseva
Serene bedroom with metallic gold poufs. They just pop.
Touch of gold...
via
decorpad
CB2 Peekaboo Clear Coffee Table, silver metallic poufs and ikat pillows.
via
firsthome
Look at this Turkish inspired bathroom done by Genevieve Gorder with a gold Moroccan pouf! It also has my favorite fouta towels.
via
annesage
Beautiful room with metallic gold pouf. Love the Moroccan style lighting too.
Looks like somebody had fun using these bold colors and kitschy elements. I love the huge silver poufs...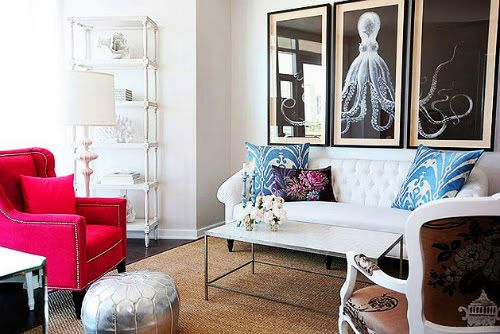 via
likemesome
Touch of silver.
I'll take the mettalic gold and white poufs and the Moroccan rug.
via
decorpad
Lovely modern living room with white Moroccan leather pouf.
via
decorpad
Gorgeous gray & orange living room with metallic gold leather pouf.
via
decorpad
Eclectic patio with gold metallic pouf, yellow and blue outdoor rug.
What do you think about Moroccan style poufs? Do you like their bold colors? How about metallic gold and silver, would you use one?