I know there are so many posts about juju hats. They have been used for designers for years. To some they have practically invaded the decor world so much, almost becoming a next "Keep Calm and Carry On" trend. My long time juju hat crush has never changed. They are still my favorite, while adding splash of color, texture and interest, their overall look is amazing in any room and decor. Since I finally found one from ebay -I guess I am so behind everything-, I felt like I had to jump on the blogger bandwagon and write something about it too:)
If you don't know what juju hats are or where they come from, plenty of blogs cover them. I only know that these hats, also called Tyn, originally came from the Bamileke tribe residing in Cameroon, West Africa. They were worn by the prominent of society during ceremonies. Crafsmen made these hats from exotic bird feathers. Because of the market demand of recent years, they are mass-produced, lately they are made from broiler chicken feathers. These feathers are dyed bright red, blue, yellow, orange, etc. carefully sewn onto hand woven raffia or straw base baskets. They have a unique folding that makes them easy to store and also protect the feathers. The hat becomes a circle when opened wide.
These stunning feathered hats are a symbol of prosperity, luck and they possess positive qualities of the beauty of birds as well as fragility of life.
via
randafricanart
This is how they are used in ceremonial dances before they are transformed onto our walls.
When I received mine from ebay, it looked like this. There was a link
here
which showed me how to open and hang it on the wall. Sorry for the bad quality picture. The quicker I took this picture the sooner I could unwrap and see the beauty of it:)
This is the back of the hat with the straw base.
My succulents kind of match the pattern:)
One the wall. I am thinking painting the walls crisp white this summer. It's a little lost in the gold leafed pattern.
Love the two tone natural feathers and the black peaking through.
Some of the juju hats in a decor inspired me;
via
tabletonic
via
repurposedvintagefinds
Fireplaces are a great place to display juju hats. They become an instant focal point and add a splash of color and interest in the room.
via
hgtv
The juju hat, the jewelry of this eclectic room, pops on the luscious green wall.
via
pinterest
Stunning magenta and white juju hat as featured in Adore Home magazine Aug/Sep 2013.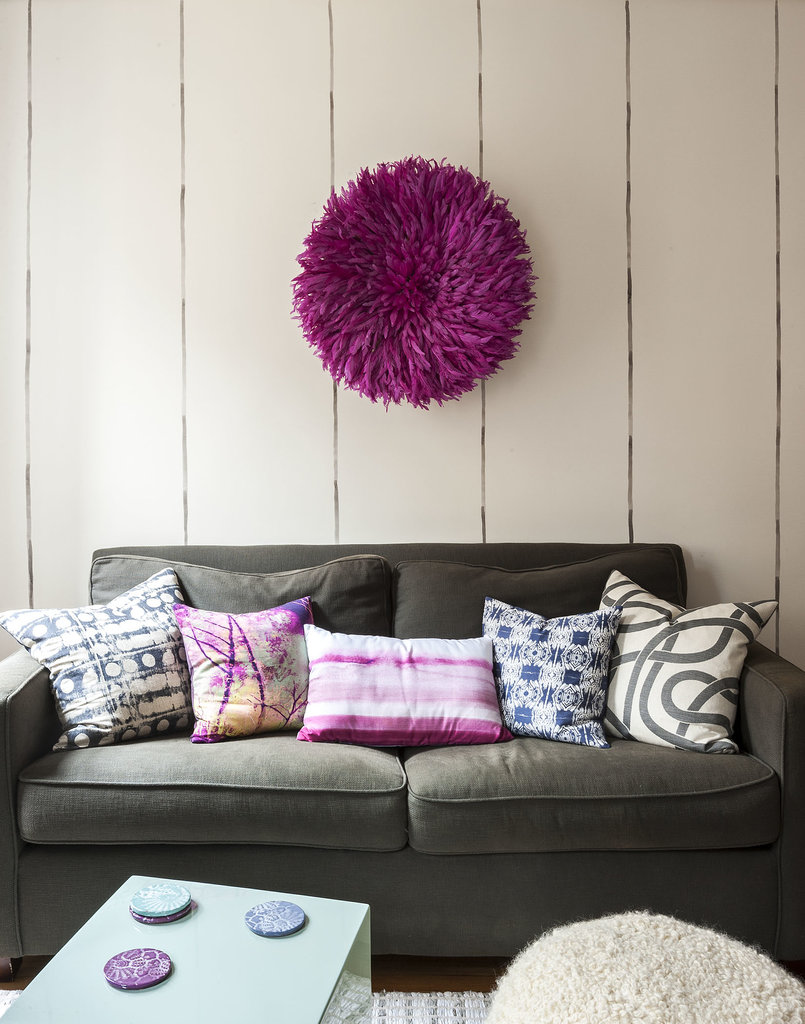 In this small space a magenta juju hat over the sofa adds personality. (Photo by Matthew Williams via LABLstudio)


via
pinterest
Juju hat against the dark wall color paired with suzani bedcover in this gorgeous bedroom. What more can I ask? Found on
decorista
.
via
lerapportminoritaire
Love this serene neutral fusion bedroom.
via
theenglishroom
Juju hat bombed wall display. They look cheery for sure but I think I can live with one:)
via
pinterest
This image is from
theoysterbayhotel
. Love the natural colors of juju hats matching with the rest of the color scheme, very relaxing.
via
mixandchic
Match made in heaven; A hall with hundi lanterns leading to bright red juju hats.
via
tabletonic
Loving this wall vignette with Moroccan wedding blanket.
via
pinterest
Gorgeous Moroccan wedding blanket, Burkina Faso indigo pillows and juju hats to match. (l'aviva home)
via
sfgirlbybay
Amazing bathroom with white juju hat. I am not sure how it works in the bathroom in reality with the humidity and all, but it sure takes a great picture.
If you find them expensive, there are several diy tutorials on the web. I like
songbirdblog
and
vintagefarmfurniture
tutorial;
via
songbirdblog
via
vintagefarmfurniture
One last thing; I also would like to share my ebay experience when I bought this hat. It was a NR and Buy It Now Sale. Since nobody was bidding, I asked the seller if she would entertains some offers and if the item could be relisted at a lower price, if so, I would buy immediately. I also gave the seller my asking price. The seller changed the Buy It Now price to a little higher than my asking price and contacted me right away. Within minutes and before I responded, there were 7 watchers. You need to act quickly for sure. That's how I purchased it below original ebay listed price. I bought several items relisted with a reduced price just like this. It doesn't always work but hey, why not try? The key is you have to do your part and pay for it immediately. This is my small contribution to how to shop smart on ebay:)
Have a great weekend!xx