I have been having a huge crush on suzanis for a while and finally have my own vintage Uzbek suzani from ebay. You can also find them on etsy, at some specialty stores and other online stores. They are so visually pleasing no matter how you decide to use them, they will fit your decor perfectly in any style. Vibrant colors and gorgeous shapes immediately add drama in any rooms. Suzanis are colorful embroidered tribal textiles dating back to 18th century. They were traditionally used for Central Asian brides as part of dowries and presented to the groom on the wedding day. They usually have a cotton fabric base, which is embroidered in silk or cotton thread and are mostly made in pieces, and then stitched together. The most popular and also my favorite Suzani motifs are sun and moon disks and flowers.
When I put this gorgeous suzani on my bed my dog wanted to test it first :) You can see the seams that hold large pieces together and miss-matched shades of colors in the picture. I kinda like that!
I posted these two photos of my table before but, I wanted to repost them to show my suzani. I intended to use it on my bed first but, then decided not to. It is so big, it would entirely cover one of my walls. Unfortunately, I don't have a wall space to hang it so, it ended up on my dining table for now :)
I wanted to share some pictures mostly from my Pinterest that shows how suzanis are used. These textiles are so eye pleasing with their vibrant colors, I hope you see beauty in them;
via
luniversdines
Suzani as a table cloth in this gorgeous whimsical dinning room.
Here some suzanis are used as throws or bed covers in these fabulous bedrooms;
via
honestlywtf
via
pinterest
As bed cover paired with a gorgeous juju hat.
via
alamodeus
In love with everything in this bedroom!
via
pinterest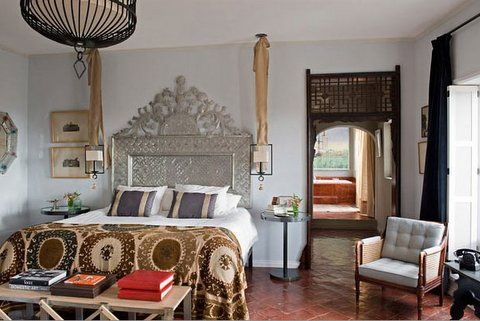 via
jpdschoolofdesign
If you are not into vibrant colors here are gorgeous muted colored suzanis complementing these serene rooms. In love with that hammered and pierced tin-ware headboard!
via
honestlywtf
via
cococozy
Who needs a headboard when suzani is on the wall?
via
lushnluxe
Love this huge statement piece in a rustic-chic dinning room. I could do this on one of my walls if I had space :)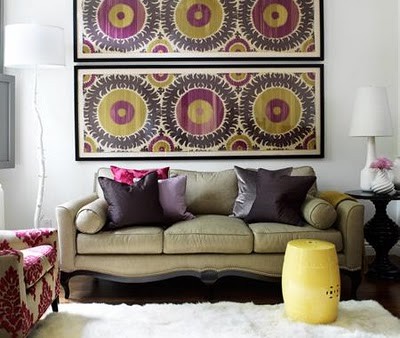 Framed suzani displayed horizontally on this wall makes a great focal point.
via
styleathome
A vintage suzani used as a throw from Turkey in this cheerful summer cabin.
via
flickr
This table cloth looks pleasant.
via
pinterest
Cute bench covered with suzani in the entry.
Suzanis used in seatings make this dinning room joyful for sure.
Beautiful pillows. You can never have enough of them!
In this small bedroom suzani curtains instead of closet doors make a great statement. What a great idea!
How about suzani designed plates,
via
flickr
via
pinterest
and coasters?
How about wearing them?
via
pinterest
I don't think I can wear these but hey, they are colorful and cheerful for sure.
You can see how versatile suzanis are... Do you like suzanis, how would you use them?