I have a special love for doors. Even the cabinets I picked for my home during the years, first, I had to fall in love with their doors. They all have great characters. I even painted, framed and gone a little crazy on my apartment's dull entry door. I believe it reflects my apartment's decor. So I have been looking for decorative buddha hand door handles for awhile. I came across this gorgeous Nepalese guyan mudra hand door handle at amazon.com. I was hoping for a pair but, I could only find one hand. Now, I have to figure out where to install one hand... :)
Some Instagram photos showing the buddha mudra hand with a hibiscus flower from my balcony :)
Turkish, Indian, Afghan, Nepalese mixed vignette.
If I decide not to use it as a door handle, I can always use it to hold jewelry or towels.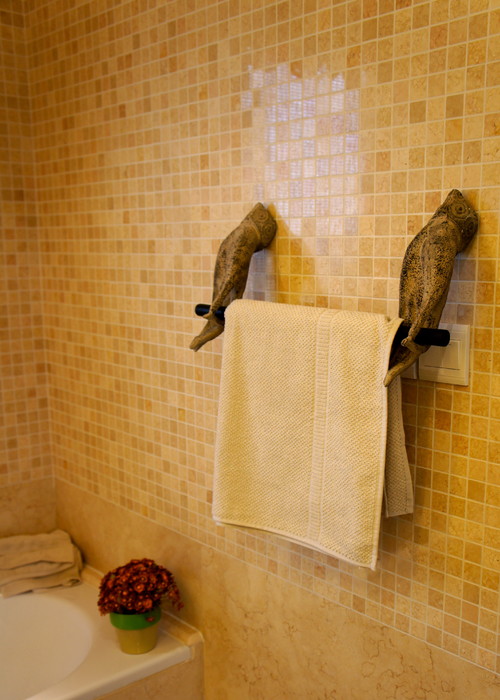 How could I have not seen this cute towel holder earlier? It would have made a great addition to my bathroom.
via
vivaterra
Hands of buddha jewelry holders. Creative way to collect and organize jewelry. They make great door handles too.
Here are some doors that I adore...
via
cushandnooks
Here is why I have been looking for buddha hand door handles! It's Jade Jagger's stunning home in Goa, India. I just adore this door!
via
pinterest
A front gate in Thailand with buddha hands serving as handles. They are positioned symbolically "so you enter the house in peace," explains Bensley at Bensley Design Studios.
via
pinterest
Amazing blue door with hand mudras (symbolic gestures of the hands of buddha).
via
pinterest
Another amazing close-up door handle with lotus flower design.
There are other bloggers who have noticed this beautiful hardware.
via
moroccanmaryam
Thai buddha hand door handle from Maryam's blog
mymarrakesh
via
indiapiedaterre
Blogger Deb from
indiapiedaterre
found these gorgeous buddha hand door pulls at Crafter's in Cochin for her India apartment cabinet doors.
via
triplefstudio
Beautiful room door handle of a spa.
via
gogirlcafe
At a yoga studio this buddha hand is lifted in the abhaya mudra (seal/gesture of no fear, protection, benevolence, assurance).
via
MeeSe
And someone's cool door picture from flickr.
Here are some sellers with buddha hand handles;
via
nepalmade
Love these handles.
via
sacredspace
Unusual shaped buddha door handle.
via
kashgar
Beautiful hand of buddha door handle.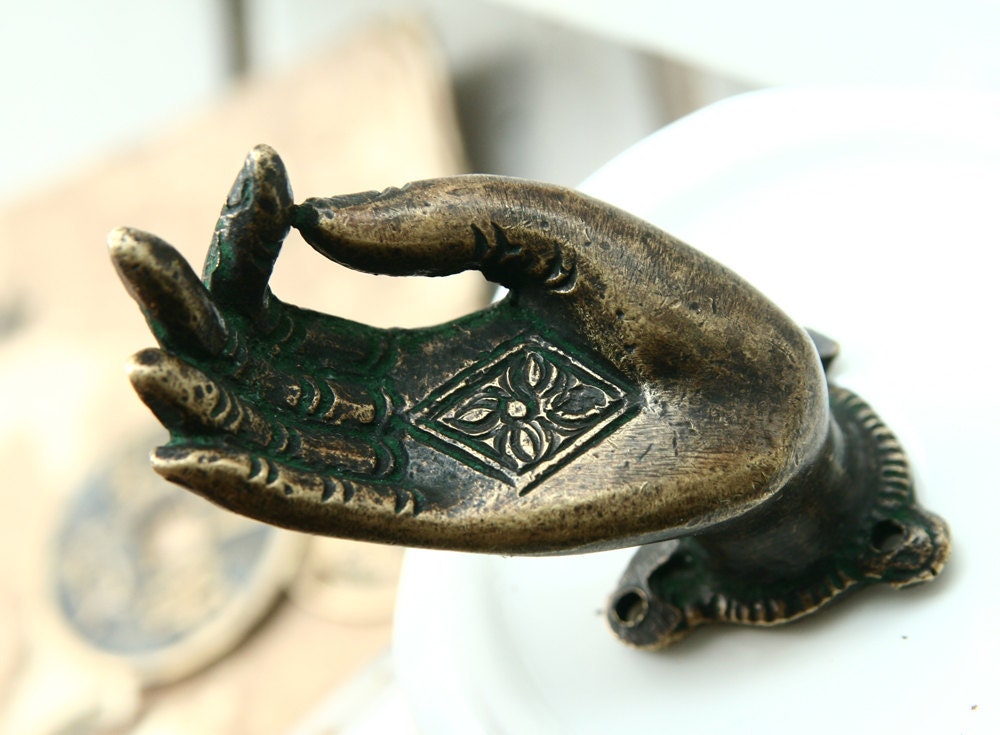 via
etsy
I found this one on etsy.
via
ebay
Balinese buddha hand from ebay.
via
ebay
Another Balinese buddha hand from ebay.
Do you go a "little crazy" on your doors with unique hardware?